Month: September 2022
Whether planning a home renovation project or cleaning out some household junk, you'll likely need to rent a skip. Most people don't have a big enough vehicle to transport large rubbish items or have the time to make multiple trips to the dump.
To make the process as smooth as possible, you must understand how the skip bin rental process works. Use the following skip bin rental tips to make the most of your hire.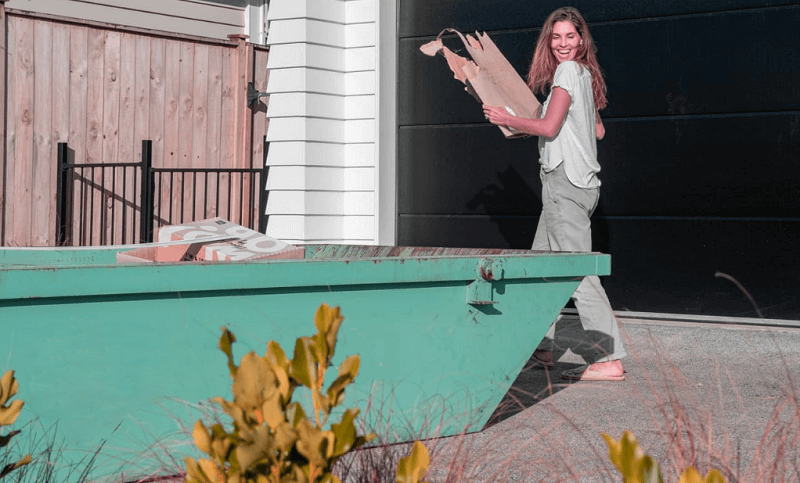 Skip Size
The golden rule when choosing your skip bin size is to go slightly bigger than you first think you'll need. It's an annoying and costly mistake to underestimate the amount of rubbish and require a second skip. You're always better off going a little bigger than you anticipate needing!
You are also better off having more room in a skip bin than too little. Overfilling a skip bin is not recommended. Skip bin suppliers are conscious of rubbish spilling over the top of their skips. They will often request that you unload excess waste before they take the skip.
Skip Bin Placement
Ensure that you have an appropriate space for your bin. It may seem obvious, but this is a skip bin rental tip you should always keep in mind. Drivers will refuse to place skip bins over fences, under power or telephone lines, and close to buildings. Skips placement is required to be somewhere with minimal risk of damage or harm. Don't forget your driveway; it must be at least three metres wide for the truck to fit.
Ensure that no cars or any other vehicles are blocking your driveway. Skip bin suppliers run on a tight schedule; as the old saying goes, "time is money". Drivers can't afford to sit and wait while you move a car. They will often skip the delivery and go to their next site if they can't access the area.
You will require a local council permit if you plan to place your skip bin on the kerb or street. Permit details vary between local councils, but they all have codes of practice and legal requirements to follow. Failure to obey the local laws will likely result in a fine.
How Much Weight Can I Put in The Skip Bin?
A handy tip for hiring a skip bin is understanding exactly how much weight you can have in your bin.
General and green waste bins have a weight limit of 150kg per cubic metre in size (i.e., a nine cubic metre skip bin can hold up to 1350kg of waste). Suppliers charge tip fees based on weight.
The limit of 150kg per cubic metre is the average industry weight limit for this type of weight. Suppliers may charge additional tipping fees if your bin exceeds this weight limit.
Don't Overfill Your Skip
Avoid filling your skip bin higher than the top of its sides to prevent material spillage while stationary or during transit. Appropriately filled bins are important from a health and safety standpoint too. Suppliers will face prosecution for unsafe or overweight loads.
Can I Get a Skip Delivered on Sunday?
Yes! You can arrange your skip bin delivery for a Sunday delivery with Bookabin. However, the choice of suppliers will be limited. If possible, request that we deliver your skip bin on the Friday or Saturday before.
How Much Notice is Required When Ordering My Skip?
Most suppliers will be able to deliver a skip bin within 24hrs of ordering. However, we suggest booking far in advance to ensure you receive a bin that best meets all your requirements.
Get the Most out of Your Skip Bin Hire
Skip bins are a lifesaver at any job site or large-scale clean-up, but only when used correctly. Equipped with our skip bin rental tips, you can get the most out of your hire.
Bookabin has easy-to-read guides on waste types and skip bin sizes for further information on skip bins. If you're interested in hiring a bin for your next project, get in touch with Bookabin today.
The process of moving house is always an expensive one. We have some great suggestions to reduce moving costs and eliminate unnecessary headaches. It may be a daunting project, but here at Bookabin, we like to take more of a glass half full approach. We view moving as a perfect time to get rid of some items you swear you'll need one day but never use again. Discover how rubbish removal can cut moving costs and make the whole experience easy and enjoyable.
6 Reasons to Ditch Your Excess Junk Before Your Move
Lower Freight Costs
Most moving companies factor the total weight of your items into their cost calculations. It's simple. The less you weigh, the less you pay!
In Aussie, skip bins are ideal for reducing the weight of your belongings, cutting moving costs dramatically.
Save on Packing Supplies
It stands to reason that the fewer items you pack, the less money you spend on cardboard boxes, bubble wrap, tape and packing materials. It may only be a few bucks, but it all contributes to a sizeable dent in the overall moving budget.
It's the Eco-Friendly Option
Less packing materials equates to less waste in landfill when you have finished unpacking. Fewer items equate to lighter loads and fewer trips, meaning you'll consume less fossil fuel during transportation.
Saves You Time
Clear out your unwanted items, and you will have less to pack. Everything will be packed into their boxes in no time at all!
Selling Unused Items Can Make you Money
You won't just save on moving costs by getting rid of that household clutter; you can make money too! You can earn a little extra money by selling unwanted items. Extra cash is always handy around a moving project. If you're lucky, you could break even with moving costs!
Gives Your New Space Room to Breathe
Fewer items will make finding places for your stuff easier when you're settling down in your new home. If your new abode has less storage space, getting rid of useless junk is even more essential!
12 Questions to Help You Decide What to Keep
Whether it's that spare piece of 2×4 you're sure will come in handy someday or something a little more sentimental, it's tough to know what's worth keeping. Try asking yourself these twelve questions to determine what to throw away and what goes with the rubbish removal.
Is this something I really need?
Is it in good condition?
Would I repurchase it?
How often do I wear or use this?
Will this suit my new home?
Is this worth the space it's taking up?
Do I have more than one of these?
Will it be a hassle to move this?
Is it going to be expensive to move?
Is this item irreplaceable?
How practical is this item?
Does it bring value into my life?
Get on Top of Your House Move Today
Skip bin rubbish removal will cut those hefty moving costs by removing the non-essential items you have lying around. Here at Bookabin, skips are our speciality. We provide skip bins in Australia, updating our website daily with the best prices in your area—delivery and collection included. Book your skip on the home page today and get started on that move!