Month: October 2019
Each individual will move house at some point in their lives & those that have done it already know the heavy stress & chaos it brings. No house move will be completely stress-free, however, there are a few things you can do to make the process run a little smoother…
1) Get Organised Early
Avoid leaving anything until the last minute! Unless you have to pack up and leave in a hurry, you usually have around 30 to 60 days to make a plan and ensure that moving day runs smoothly. You may want to take a look at our Skip Bin Size Guide at this early stage.
2) Use the Opportunity to Purge
Moving is a great time to organise your belongings and get rid of a few things that you don't use anymore. HIre a skip bin to get rid of rubbish and check our Waste Type Guide to understand what skip bin you will require. It will save you time that you would otherwise spend boxing these belongings and transporting them to your next place, and if you're using a moving company, this could also save you a buck or two. Hold a yard sale, donate or sell online as much as you can! 
3) Specific Labeling
Label each box clearly with the contents and where you want it in your new home. Be as specific about the contents of each box as possible, it will make unpacking so much easier.
4) Plan the Space
To save time on moving day, plot where you are going to put everything in your new place. It is also VERY useful to take measurements of walls & spaces, especially where big pieces, such as a cabinet could be placed. Also, using masking tape alongside this is very helpful, so space is mapped out all ready for the day. Long story short; invest in a tape measure and a roll of masking tape!
5) Prioritise your Kitchen
Moving can be stressful & exhausting, & so nourishment during this process is important. The sooner you can cook a meal in your new home, the sooner it will begin to start to feel like home.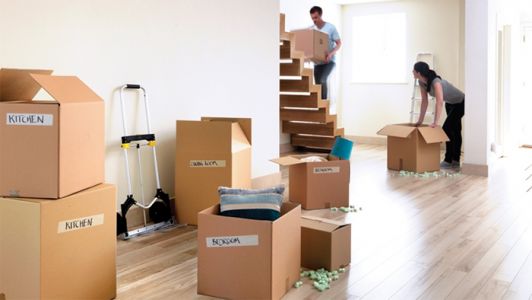 6) Use a Packing List Template
This will give you a list of all the things you need to complete in your move, with different categories. You can then use the same list to unpack because you will know where everything is. Go through your house systematically & list everything in each room, ensuring to make a note of the fragile items.
Read our skip bin hire tips to help you save money:
A skip can also be very useful when moving from one house to another in case you have items that you cannot donate or sell. Skip bin hire is our speciality and we update our website daily with the best prices for skip bins in your area. Book your skip on the home page today & make a start on that move!