In Australia, we produce around 50 million tonnes of waste every year, which equates to a lot of rubbish! Luckily, we only have to organise our waste, which is usually as easy as filling up the trusty wheelie bin once a week.
For those other times when we have more waste than we know what to do with, disposing of it can be as easy as ordering a skip bin to take it all away. Once we've taken stock of our waste (check with this Waste Type Guide), the next step is to work out which bin is the right one for the job.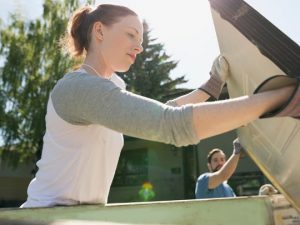 Waste comes in many different forms, shapes and weights and when your waste products are spirited away to their final destination, they don't all go to the same place. Different types of waste need to be disposed of in different ways and Bookabin has different skip bins to suit the many different waste products we produce. Knowing your waste will help you to make the right decision for choosing the perfect bin for your needs, to get maximum bin for your buck and avoid incurring extra costs along the way.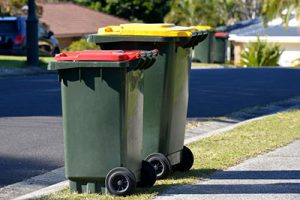 A general waste bin is suitable for any light domestic or commercial waste products. This includes domestic waste, commercial waste and office waste. In this bin you can put whatever light rubbish you have, except hazardous waste, clean fill, fridges or food products. Additionally, things like mattresses, carpet, tyres or e-waste could incur extra costs, so make sure you ask about any of these while you are booking your bin.
If you have a lot of mixed waste you will need an all-purpose bin that can accommodate the scope of everything you want to dispose of. In this 'one-size-fits-all' bin you can put just about everything you can think of (including the kitchen sink), except hazardous materials, soil and food waste.
This is your bin of choice if you are clearing out domestic, commercial, demolition, construction or renovation waste. You'll be able to dump your household and builders waste, old furniture and appliances, timber, bricks, tiles and concrete, green waste, metal and steel. As with the general waste bin you will need to check when booking about disposing of mattresses, carpet, tyres or e-waste as these could incur extra costs. The only things you cannot put in this bin are soil/dirt and food waste, or hazardous materials.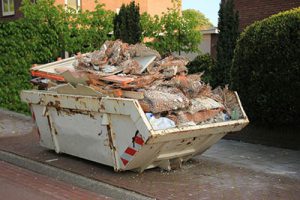 For people who are managing a worksite, construction area or have waste from a DIY project, a cleanfill/hardfill bin is the best choice for this sort of waste. These bins are for clean fill that has not been contaminated with any other waste. This includes waste such as concrete, bricks, rocks and ceramic tiles. This bin won't work if you have other waste including hazardous materials, general waste, garden waste, food waste or soil, but if you have an abundance of cleanfill or hardfill, this is your bin.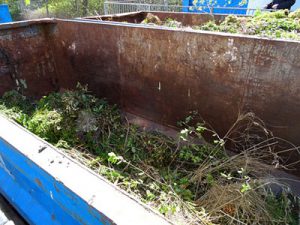 Have you been doing a garden makeover and have an abundance of green waste and nowhere to put it? A green garden waste skip bin will take away all of that and leave your yard clean and clear, ready for planting or whatever else you have in mind. Green waste is waste that is high in nitrogen, which makes it biodegradable, meaning it can break down easily and become a part of the earth again in no time.
Green waste includes things such as grass clippings, leaves and tree trimmings, small branches, weeds and bark. It does not include brown waste matter such as cabbage trees, bamboo or flax, which have high carbon content. Waste products such as soil/clay, hazardous materials, general waste, clean/hardfill or food waste don't go in this bin either, so keep it green and you'll be winning with this bin.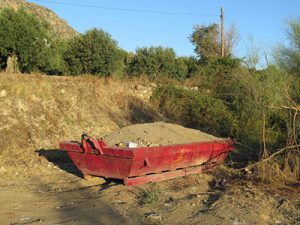 For disposing of soil and dirt, there is a specific skip bin suited to this type of waste, and it is important to be clear about what you can and can't put in this bin. The soil and dirt that can be disposed of in this bin are those that have not been contaminated with any pollutants or other rubbish. This bin is not appropriate for putting turf or contaminants, garden waste, general waste, clean/hard fill or hazardous materials. It's for clean dirt and soil only.
Hazardous Materials
There is a reason why hazardous materials need to be handled, packaged, labelled, stored and disposed of in appropriate places. Hazardous waste is any waste that has the potential to be dangerous or cause damage to living beings or the environment. These waste products can be liquid, solid or gas, and none are welcome in any of the Bookabin skip bins. When referring to hazardous materials this includes asbestos, paint, solvents, acids, laboratory waste, oils and grease traps. If you are unsure whether your waste is a hazardous material get in touch with us and we will be able to provide you with this information.
Now that you know which waste is what, get a free quote on our Homepage. We'll have a skip bin out to you in no time so you can start cleaning up.