When designing cost effective landscaping for a home or property, it's important to have a solid grasp on what's wanted and desired. Is the overall goal to save money, to add aesthetic value, to add monetary value and appeal to your property, or perhaps, all of the above?
It's possible for an inexpensive garden redesign to accomplish it all, as long as there's a plan. To begin with, every backyard design: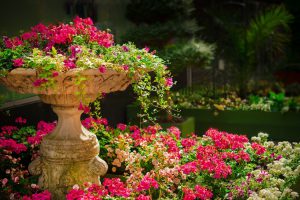 Must add value
When working with any new backyard design, especially a cheap backyard design, keep in mind that it needs to add real value to a home and property.
Improved landscaping may boost a home's value considerably. It may even be possible to recoup the entire cost, or even double the landscaping cost, when it's time to sell.
Another enticing advantage of using garden redesigns to add property value is that it can also save you money in the long term. It's possible to reduce a home's water bill, air conditioning and heating costs by using trees, shrubs and drought-resistant plants to:
 Block wind
 Offer shade
 Cut down on water consumption
Must be manageable
Cheap landscaping ideas don't have to be ordinary, but they must be manageable. It's therefore important to understand how much time is involved in caring for the new landscape in the future.
If there's not time for a lot of upkeep, consider plants, trees and landscaping that don't need a lot of extra care. No matter the design, though, every garden needs at least a small amount of upkeep and attention. Typically, a simple garden requires occasional weeding and trimming back shrubbery.
Must compliment home/property design
When scouring any cost effective garden ideas, consider options that compliment a property's overall design. A new garden may be solely functional, aesthetic or both.
Choose complimentary or contrasting colours and products that highlight the best attributes of a property.
Save money by planning it out
Adding new landscaping features can quickly escalate in price. However, advance planning definitely helps.
• Designate a space
A small space likely costs less but not always. Consider whether to go with a lush corner garden or a larger space with a blend of inexpensive landscaping ideas.
• Take inventory
Think about any trees or landscaping that can be repurposed and the things that you will just have to work around in the garden.
This is also a good time to gather common supplies, and plan for things like affordable bins to dispose of existing garden waste.
• Come up with a design
Whether a single colour or mix of colours, a mix of materials or just a couple of key stand out items, a design should fit the space and a homeowner's needs.
• Divide up the work
A plan also includes understanding the amount of work that's needed, and it is also worth highlighting the projects key priorities.
Not having a plan is one of the biggest mistakes, but there are others.
Costly mistakes to avoid
Lack of a budget
It doesn't really matter how many cheap landscaping ideas are introduced if there's not a budget to help visualize a finished project. By setting a budget you will also ensure that the costs don't blow out by the time your done with the redesign.
The wrong landscaping
Other things that can drive up the cost of a garden redesign include selecting the wrong plants and trees. Non-native plants and trees typically won't grow as easily and often necessitating more care.
It's also important to ensure that the plants you select will not cause other structural issues. For instance; planting a large tree species in a small backyard garden can cause major issues, due to these trees having complex root structures and occasionally may even have buttress roots that can disrupt topsoil. These can have wide spread affects including (but not limited to) harming other plants in your garden, limiting your landscapes space and damaging your plumbing.
 Choose native plants/grasses/trees
Native plants, withstand the elements better, and in most cases can help you save money in terms of upkeep.
Local gardening groups and suppliers can help in terms of recommending the specific types of grass you should look at for your redesign. However, popular grasses in Australia include:
 Zoysia
 Kikuyu
 Buffalo
For lower cost and upkeep a garden overhaul should be simple, based on a few key additions that add value.
Planting too close
Another major mistake is planting large plants and trees too close to a home or fence, as some have wide, deep roots and could cause problems later.
Not understanding annuals vs. perennials
Yet another potentially costly mistake is not taking into account the difference between annuals and perennials.
 Perennials: May cost more upfront but return every year
 Annuals: May cost less but have to be replaced every season
A backyard re-design doesn't have to be complicated. No matter an individual's preference it truly comes down to the design, thinking and execution of a landscaping project plan. It can be fairly easily accomplished, as long as a person is willing to put in some work ahead of time planning it out, and then bring that backyard landscape design to reality.
Why re-design a backyard?
A homeowner probably should consider a backyard re-design if they're trying to add value to their home or if the space doesn't have any functional use or even existing design.
Changing over from grass to some type of landscaping means potentially less maintenance when it comes to weekly mowing. On the other hand, more trees could translate to more shade during warmer months, potentially shaving significant costs from the AC bill.
A re-design could also help a backyard with drainage issues, add some dimension and even create a personal space if the property backs right up to a neighbour.
Taking the first step
Before any DIY landscaping plan can get started, though, it's important to have a good grasp on the space in question.
Measure, measure, measure!!!
This means measuring out the area and pinpointing some of the key features that already exist, and the key features you may want in a finished product.
Measurements are key. Hold the measuring tape tight and double-check all of the numbers. One bad measurement could throw off an entire landscaping project.
Coming up with a landscaping plan
Before moving any dirt or tearing up any existing green waste, the very next step needs to be producing some type of landscaping plan document. This really is important because the document acts as a floor plan of sorts for the outdoors, helping a person understand everything that's needed and how to best design a space.
While a DIY landscape design could mean just a simple sketch, thanks to technology it's never been easier to create a landscaping plan (this resource is free for a 7-day trial period). It can be used to add in grass, trees and flowers, plus even things like sheds and lighting, all to scale. Such a plan makes it easier to visualize the big picture of a finished design, and even see what's missing.
Start by coming up with a budget, gathering a few ideas of what's possible both online or at a local gardening centre, and then coming up with an itemised list of some of the most desired features.
An online service may even help in giving a few options to work with.
Step 1: Make a basic outline
A person should only mark out the space that's going to be part of the finished design.
Step 2: Add features that are staying
This may include poles, large rocks or anything else that's not going to be cleared out of the yard. This is also the time to designate places in the yard that get the most sun or the most shade throughout the day. This will help in planning out the types of plants or trees to acquire.
Step 3: Add ground cover
This could be done by adding grass, cement, rocks or even a combination of landscape products.
Step 4: Add new landscaping
On this step a person designates a spot for flowers, trees and shrubbery, in addition to possible walkways, fountains, gazebos or anything else desired in the landscaping project plan.
A DIY landscaping design could also mean; adding new decking to a backyard, adding in room for built-in seating, putting down some pavers or adding in some texture and colour to the plan with decorative rocks or flowering plants.
What to plant
Native plants obviously grow best in Australia, so look to add plants, trees and grasses that are local to a particular area. They don't have to be expensive, but they do need to be hardy enough to withstand the seasons.
This is also the time to consider the soil and other conditions. It's important to find plants or trees that thrive in different weather conditions and can work well in a particular space. Is there an already existing issue with standing water or run-off? It's possible to work around these types of issues with certain types of ground cover or even placement of specific items.
For example, pinpoint the areas with lots of sun or lots of shade during the hottest times of the day. This can help determine what to plant in shade, a mix of shade and sun or even full sun. For example:
• Roses/herbs need full sun
• Many bedding plants need hours of sun
• Some flowers/succulents prefer shade
Looking at the wind patterns in a backyard space could also impact a design, especially if a person desires adding a fire pit to the redesign. Though for obvious reasons this can be difficult to plan and map onto a design.
In Australia, we produce around 50 million tonnes of waste every year, which equates to a lot of rubbish! Luckily, we only have to organise our own waste, which is usually as easy as filling up the trusty wheelie bin once a week. For those other times when we have more waste than we know what to do with, disposing of it can be as easy as ordering a skip bin to take it all away. Once we've taken stock of our waste, the next step is to work out which bin is the right one for the job.
As we know, waste comes in many different forms, shapes and weights and when your waste products are spirited away to their final destination, they don't all go to the same place. Different types of waste need to be disposed of in different ways and Bookabin has different skip bins to suit the many different waste products we produce. Knowing your waste will help you to make the right decision for choosing the perfect bin for your needs, to get maximum bin for your buck and avoid incurring extra costs along the way.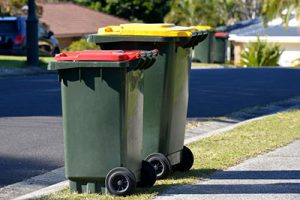 General Waste
A general waste bin is suitable for any light domestic or commercial waste products. This includes domestic waste, commercial waste and office waste. In this bin you can basically put whatever light rubbish you have, except hazardous waste, clean fill, fridges or food products. Additionally, things like mattresses, carpet, tyres or e-waste could incur extra costs, so make sure you ask about any of these while you are booking your bin.
Mixed Heavy Waste
If you have a lot of mixed waste you will need an all-purpose bin that can accommodate the scope of everything you want to dispose of. In this 'one-size-fits-all' bin you can put just about everything you can think of (including the kitchen sink), except hazardous materials, soil and food waste.
This is your bin of choice if you are clearing out domestic, commercial, demolition, construction or renovation waste. You'll be able to dump your household and builders waste, old furniture and appliances, timber, bricks, tiles and concrete, green waste, metal and steel. As with the general waste bin you will need to check when booking about disposing of mattresses, carpet, tyres or e-waste as these could incur extra costs. The only things you cannot put in this bin are soil/dirt and food waste, or hazardous materials.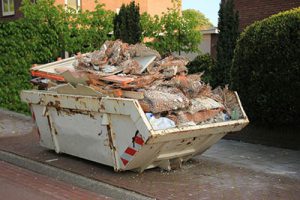 Cleanfill/Hardfill
For people who are managing a worksite, construction area or have waste from a DIY project, a cleanfill/hardfill bin is the best choice for this sort of waste. These bins are for clean fill that has not been contaminated with any other waste. This includes waste such as concrete, bricks, rocks and ceramic tiles. This bin won't work if you have other waste including hazardous materials, general waste, garden waste, food waste or soil, but if you have an abundance of cleanfill or hardfill, this is your bin.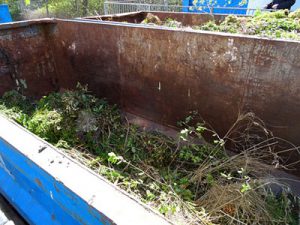 Green Garden Waste
Have you been doing a garden makeover and have an abundance of green waste and nowhere to put it? A green garden waste skip bin will take away all of that and leave your yard clean and clear, ready for planting or whatever else you have in mind. Green waste is waste that is high in nitrogen, which makes it biodegradable, meaning it can break down easily and become a part of the earth again in no time.
Green waste includes things such as grass clippings, leaves and tree trimmings, small branches, weeds and bark. It does not include brown waste matter such as cabbage trees, bamboo or flax, which have high carbon content. Waste products such as soil/clay, hazardous materials, general waste, clean/hardfill or food waste don't go in this bin either, so keep it green and you'll be winning with this bin.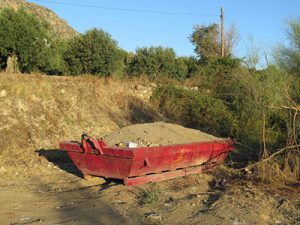 Soil/Dirt
For disposing of soil and dirt, there is a specific skip bin suited to this type of waste, and it is important to be clear about what you can and can't put in this bin. The soil and dirt that can be disposed of in this bin are those that have not been contaminated with any pollutants or other rubbish. This bin is not appropriate for putting turf or contaminants, garden waste, general waste, clean/hard fill or hazardous materials. It's for clean dirt and soil only.
Hazardous Materials
There is a reason why hazardous materials need to be handled, packaged, labelled, stored and disposed of in appropriate places. Hazardous waste is any waste that has the potential to be dangerous or cause damage to living beings or the environment. These waste products can be liquid, solid or gas, and none are welcome in any of the Bookabin skip bins. When referring to hazardous materials this includes asbestos, paint, solvents, acids, laboratory waste, oils and grease traps. If you are unsure whether your waste is a hazardous material get in touch with us and we will be able to provide you with this information.
Now that you know which waste is what, get a free quote with our easy-to-use online booking system. We'll have a skip bin out to you in no time so you can start cleaning up.