Your backyard is more than just an outdoor space; it's an extension of your home and a canvas waiting to be transformed. Imagine what a backyard makeover could do to breathe new life into your outdoor living area, making it a place where you, your family, and your friends can relax, unwind, and create lasting memories.
When you're ready to get stuck into your backyard reno, be sure to rent a skip from Bookabin to make the clean-up process as easy as possible.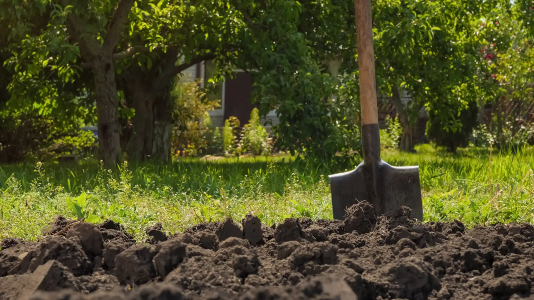 1) Increase the Value of Your Home
Investing in your backyard isn't just about creating a nicer space to enjoy a beer on a sunny afternoon; it's a savvy financial move, too. A beautifully landscaped and functional backyard can substantially increase your property's value. Digging in and putting a little effort into your backyard (depending on the initial price and value of landscaping) can boost your property's value by 5-20%.
Potential buyers are often willing to pay a pretty penny for homes with well-designed outdoor spaces. So, your backyard makeover is not just an expense; it's an investment that can yield significant returns.
2) Attract Potential Buyers
A well-kept garden can play a huge factor in attracting prospective buyers. Adding a deck or patio, installing outdoor lighting, and creating a functional outdoor living space can appeal to those who enjoy spending time outdoors. Real estate agent David Eastway has found that "landscaping has an emotional feel for a buyer. A nice, manicured garden can make a great impression."
3) Prevent Soil Erosion
If you want to keep your backyard looking its best, it's time to get serious about gardening. A well-maintained garden helps prevent soil erosion and creates a healthier outdoor environment. The most natural way to control erosion is to plant vegetation. By carefully selecting and nurturing plants with strong root systems, you can create a natural barrier that stabilises the soil and reduces the risk of erosion caused by wind and water runoff. So, grab your gloves and get ready to dig in! Your backyard (and local ecosystems) will thank you.
4) Prevent Local Flooding
A backyard makeover can do more than make your space look nicer! Water runoff caused by rain can cause local flooding; a plant buffer zone can stabilise this. Green buffer zones are comprised of different plant species, such as trees, grasses, and wildflowers, that glamorise your landscape area throughout the seasons. These plant species work together to absorb, filter, and slow down the flow of water runoff, preventing soil erosion and helping to recharge groundwater.
5) Create a Beautiful and Healthy Environment
Spending time in nature has been proven to reduce stress, anxiety, and depression while increasing concentration and productivity. Your backyard can be a therapeutic retreat where you can unwind and recharge. Incorporating elements like a soothing water feature, lush greenery, and comfortable seating can turn your backyard into a wellness haven. From start to finish, a backyard makeover is simply good for the soul.
Reimagine Your Backyard with Bookabin
Embarking on a backyard makeover journey brings numerous benefits. It's not just about transforming your outdoor space; it's about transforming your lifestyle and creating a haven of beauty and functionality right in your own backyard. So, roll up your sleeves, gather your ideas, and get started!
But before you do, don't forget to find the perfect-sized skip for your garden or soil waste.
Read more Garden and Landscaping Tips on our blog page:
Time Saving Tips for Gardeners
Outdoor DIY Projects That Give Your Home Character