Although a skip bin hire may seem harmless, things can go seriously wrong if you don't follow certain safety precautions. To help you, your family and neighbours keep safe, follow our top skip safety tips.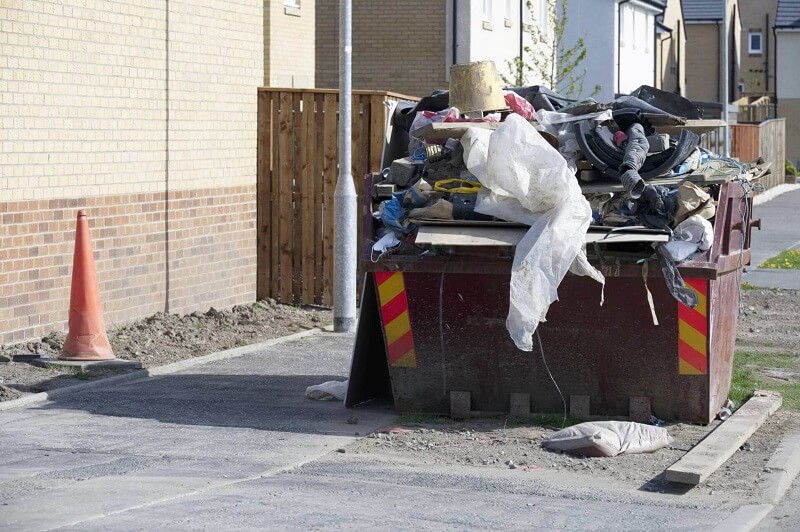 Create a No-Smoking Area Around Your Skip Bin
Make it a rule that no one is allowed to smoke within a certain distance of the skip bin. Many materials placed in skip bins are extremely flammable. Dry wood, paper rubbish, and wood-plastic composites are just a few examples of materials that could catch fire if sparks or cigarette butts were to ignite them.
Once ignited, your skip could be a raging fire pit, creating an emergency for everyone and everything close to the bin including your house! It may also be worth keeping a fire extinguisher handy just in case you catch a small fire close to the bin. But ultimately prevention is the best method, so keep the fire away by enforcing a no-smoking, no-lighting rule around the skip bin on your site.
Keep the Area Around Your Skip Clear
When you are loading your skip, be sure to keep pieces of rubbish or tools picked up in the general area of the skip. It is very easy to not see these items on the ground while loading your skip, so not only could they cause a trip hazard, but they can also be a potential danger to step on something sharp. Make it a regular practice to visually scan the area around the skip bin for hazards and clean up any wayward material for disposal or correct storage.
Stick to the Right Waste Material
Only put the accepted waste material for your type of skip bin inside the bin. Hazardous materials inside a bin that is not designed to hold it can lead to damage to the skip bin, fires, and sometimes even damage to equipment and people handling the waste further down the line at the processing plants. Read up on what types of materials are allowed in your skip bin before you go ahead with your skip bin hire to avoid any unnecessary accidents.
Fill to the Top of the Bin Only
Although it may seem tempting to overfill to save cost, we put the 'do not fill above rim' warning there for a reason! Besides being illegal, an overflowing bin is also a safety hazard. Whilst on your property, if you fill your bin too high, content can become unbalanced and fall over the edges, possibly dropping on those around the area.
If an overfilled bin can cause a safety hazard while still, imagine what it can do in transit on the road! Part of the load could fall off hitting pedestrians and causing serious injuries, or it could hit a vehicle and cause an accident. Typically, the skip bin delivery driver will refuse to transport an overloaded bin because of these reasons, and you will have to fish out the excess. Save everyone's time by only filling the bin to the appropriate level.
Book Your Skip Bin with Bookabin
Hiringskip bins in Darwin and throughout Australia is made easy with Bookabin, your one-stop shop for skip bin hire. We organise, deliver, and collect your skip bins with an easy booking system on our website. Rent a skip with BookaBin today and dispose of waste easily and safely.