Skip bin suppliers tend to see the same kind of plain old rubbish most of the time, but every now & then they'll stumble across something interesting or just downright weird. Read our list and if you want to check what can go into your skip bin read our Waste Types Guide.
1) WW2 Artillery Shell
This was found in a skip in Cornwall, the UK in 2006. After the Royal Navy Bomb Disposal Squad quickly came to investigate, the shell was found to still be live (just meters from a petrol station too!). Subsequently, they carried out a control explosion in a nearby quarry & nobody was injured.
2) Caravan
Someone actually tried to dispose of a caravan by dumping it on top of a skip. Of, course it didn't fit, but we'll give you a gold star for effort.
3) 100 Million Pounds Worth of Stolen Artwork
5 pieces of modern art thought to be worth approx. 100 million were found in a skip bin in Paris. The pieces were stolen from the Paris Museum by art thieves who got caught & wanted to destroy the evidence.
4) Two old film canisters long assumed to be lost
These weren't just any films, but the two long-lost Peter Sellers films: Death of a Salesman & Insomnia is Good for You. Both these films were assumed to be lost until they were plucked from a nearby skip by a site manager.
5) Coffin
A coffin was found in a skip in Norwich, the UK in 2007. Luckily, it was empty, however, the mystery remains who put the garbage bin there & why…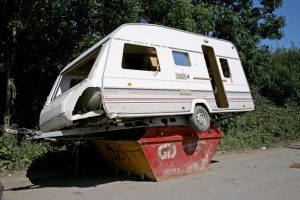 Read another story about weird things found in skip bins:
On a lighter note, if you require skip bin hire, bookabin is your website. Simply choose the dates for pick-up & drop-off, the size you require & what you wish to put in your skip bin. We'll do the rest. Book your skip on our homepage.